Tried-and-true, the original skate sharpening hollow profile still used today by the majority of professional and amateur hockey players around the world.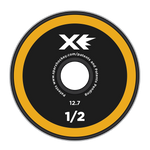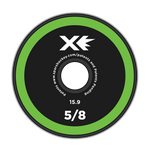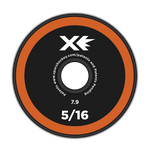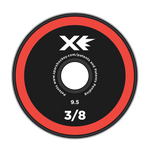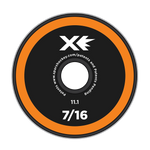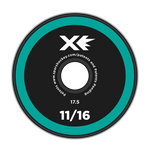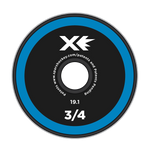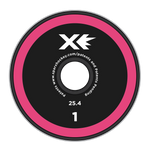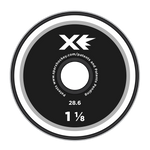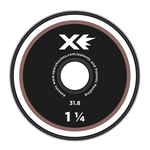 Grinding Rings Comparison Chart
SPARX RADIUS VS FIRE RINGS

SPARX RADIUS RING
The Sparx Radius Rings produces the traditional hollows most commonly used in hockey, including the most popular 1/2" and 5/8" cuts. Choose from 12 different radius rings – from the deepest hollow for extreme grip (5/16") to the flattest hollow for unmatched glide (1-¼").

SPARX FIRE RINGS
Looking to get the grip you need with the benefit of extra glide? Our FIRE Ring hollows provide exactly what you are looking for – the best of both worlds. Available in four different cuts (3/8", 1/2", 5/8", 3/4") the FIRE ring is a re-imagined and optimized flat bottom hollow that provides improved glide while still maintain desired bite.

UNDERSTANDING RADIUS OF HOLLOW
Radius of Hollow is simply how deep the groove is that is cut into the skate blade from sharpening. The deeper the cut, the more grip the blade will have on the ice. The shallower the cut, the more glide the blade will have on the ice. A smaller Radius Ring (5/16", 3/8", 7/16") will cut deeper into the blade creating more bite, while a larger Radius Ring (1-1/8", 1", 7/8") will not cut as deep, creating more glide.

CHOOSING THE RIGHT RADIUS OF HOLLOW
Choosing the right hollow is a matter of personal preference, whether you want more bite or more glide. The most common Radius of Hollow is a 1/2", which is what you will find in most retail settings. We recommend 1/2" for most youth players (less body weight) and then increasing the radius (9/16", 5/8") as the player gets larger.
CHOOSING YOUR GRINDING RING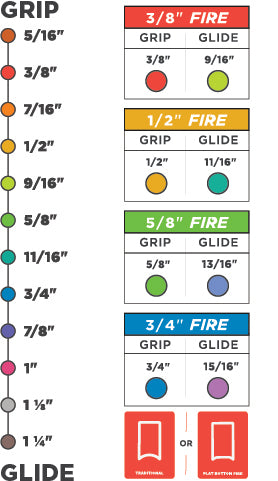 FREQUENTLY ASKED QUESTIONS
How long does a Grinding Ring last?

If you're freshening up your blades after every skate, you'll get 50-60 sharpenings (or even more!) per ring (Radius Ring or FIRE Ring) and if you're sharpening your skates after every 5-6 hours of ice time, you'll get about 40 sharpenings. We like to say its about $1 per sharpening.
How does the Grinding Ring know when it's out of sharpenings?

This information is stored on a microchip inside the Grinding Ring and is relayed to the Ring Life Status Bar on the Menu Pad.
Do you offer a Flat Bottom sharpening?

Yes! Our patented FIRE (Flat Inside Radius Edges) Ring produces a flat bottom hollow.
How do I know which Grinding Ring to choose?

While there are many options available, the most common grinding rings are the 1/2" and the 5/8" Radius Ring™. Through our testing, we have determined that a 1/2" Radius Ring is a great starting point for smaller, younger players. Many adult players skate on a 1/2" radius as well. We have, however, found that larger, heavier players actually do quite well on the 5/8" radius. A flatter radius, the 5/8" allows heavier players to sufficiently grab an edge for turning and stopping but provides great glide as more of the blade remains above the ice surface.
What is the difference between a Radius Ring™ and a FIRE Ring™?

The easiest answer is that the Radius Ring™ produces a traditional "radius of hollow" (ROH) sharpening. Unless you know you skate on a flat-bottom profile, you will likely want to choose the Radius Ring at checkout. The Radius Rings work for both player skates and goalie skates. The FIRE Ring™ produces a flat-bottom cut with radius edges. You can find more information on the Grinding Rings page or in this blog post.
Total 5 star reviews: 10
Total 4 star reviews: 0
Total 3 star reviews: 0
Total 2 star reviews: 0
Total 1 star reviews: 0
100%
would recommend this product
Douglas G.

Verified Buyer

Outstanding product!!!!!

What a great product, very user friendly, fast, efficient. The best feature is it is done in my own home. No more running around trying to get three pairs of skates done. Will pay for itself in less than a year. Most places are charging $10-$12 per pair. On the ice four days a week between skills, practices, and weekend games. Then add in the Friday night skates and throw in some pond hockey you do the math. Great on-line videos and tutorials on how to and what to do. So far great customer service. Great job Sparx!!!!

Sharpener works great

Love my Sparx Sharpener but like others have said I wish they would have a deal on the sharpening rings, maybe buy 3 get one free. Black friday possibly!

Paid back and then some

Bought my Sparx over a year ago and it paid itself off in about 9 months. I kept track of sharpening costs. And that pay back didn't included the connivence of home use, tournament use , and hockey camp use. I have used it at home, in hotels, in my camper and from the back of truck in the parking lot in between periods because someone lost an edge (not my work! Lol) and needed fixing up in a hurry. Outstanding product, no issues at all and had work consistently and flawless every time. Cannot recommend enough. If you have a family of hockey players ( I have three kids and my wife ) this is the product for you.

Great machine

Machine is great , does exactly what it should . Very disappointed that the sparx company cant give back a little. Maybe have package deal for wheels . Buy 3 get one free or save 10 a wheel when buying more then 2 wheels. We all understand it is a business, and we know you have the market locked being the only company selling this product Step back and give back

Works Great!

The Sparx sharpener is quick and easy to get a consistent sharpening each time! The starter pack is nice, just wish you could pick your own 3 rings.
Reviews Loaded
Reviews Added