Sparx has re-imagined and optimized a flat bottom profile that provides improved glide while still maintaining desired bite. Our FIRE Ring™ profile is more forgiving FIRE ring with bottom than that of other flat bottom hollows on the market equaling a more confident feeling every time you step onto the ice.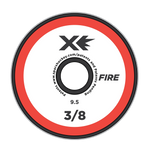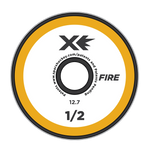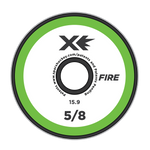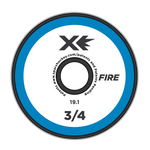 Grinding Rings Comparison Chart
SPARX RADIUS VS FIRE RINGS

SPARX RADIUS RING
The Sparx Radius Rings produces the traditional hollows most commonly used in hockey, including the most popular 1/2" and 5/8" cuts. Choose from 12 different radius rings – from the deepest hollow for extreme grip (5/16") to the flattest hollow for unmatched glide (1-¼").

SPARX FIRE RINGS
Looking to get the grip you need with the benefit of extra glide? Our FIRE Ring hollows provide exactly what you are looking for – the best of both worlds. Available in four different cuts (3/8", 1/2", 5/8", 3/4") the FIRE ring is a re-imagined and optimized flat bottom hollow that provides improved glide while still maintain desired bite.

UNDERSTANDING RADIUS OF HOLLOW
Radius of Hollow is simply how deep the groove is that is cut into the skate blade from sharpening. The deeper the cut, the more grip the blade will have on the ice. The shallower the cut, the more glide the blade will have on the ice. A smaller Radius Ring (5/16", 3/8", 7/16") will cut deeper into the blade creating more bite, while a larger Radius Ring (1-1/8", 1", 7/8") will not cut as deep, creating more glide.

CHOOSING THE RIGHT RADIUS OF HOLLOW
Choosing the right hollow is a matter of personal preference, whether you want more bite or more glide. The most common Radius of Hollow is a 1/2", which is what you will find in most retail settings. We recommend 1/2" for most youth players (less body weight) and then increasing the radius (9/16", 5/8") as the player gets larger.
CHOOSING YOUR GRINDING RING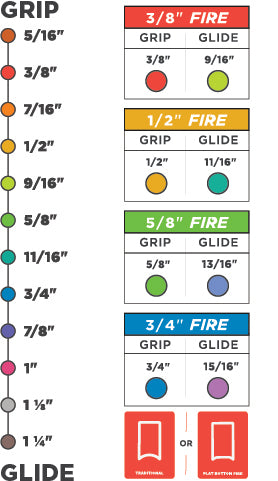 FREQUENTLY ASKED QUESTIONS
How long does a Grinding Ring last?

If you're freshening up your blades after every skate, you'll get 50-60 sharpenings (or even more!) per ring (Radius Ring or FIRE Ring) and if you're sharpening your skates after every 5-6 hours of ice time, you'll get about 40 sharpenings. We like to say its about $1 per sharpening.
How does the Grinding Ring know when it's out of sharpenings?

This information is stored on a microchip inside the Grinding Ring and is relayed to the Ring Life Status Bar on the Menu Pad.
Do you offer a Flat Bottom sharpening?

Yes! Our patented FIRE (Flat Inside Radius Edges) Ring produces a flat bottom hollow.
How do I know which Grinding Ring to choose?

While there are many options available, the most common grinding rings are the 1/2" and the 5/8" Radius Ring™. Through our testing, we have determined that a 1/2" Radius Ring is a great starting point for smaller, younger players. Many adult players skate on a 1/2" radius as well. We have, however, found that larger, heavier players actually do quite well on the 5/8" radius. A flatter radius, the 5/8" allows heavier players to sufficiently grab an edge for turning and stopping but provides great glide as more of the blade remains above the ice surface.
What is the difference between a Radius Ring™ and a FIRE Ring™?

The easiest answer is that the Radius Ring™ produces a traditional "radius of hollow" (ROH) sharpening. Unless you know you skate on a flat-bottom profile, you will likely want to choose the Radius Ring at checkout. The Radius Rings work for both player skates and goalie skates. The FIRE Ring™ produces a flat-bottom cut with radius edges. You can find more information on the Grinding Rings page or in this blog post.
Total 5 star reviews: 9
Total 4 star reviews: 1
Total 3 star reviews: 0
Total 2 star reviews: 0
Total 1 star reviews: 0
100%
would recommend this product
Customer-uploaded media carousel. Press left and right arrows to navigate. Press space or enter to open more details.
Slide 1 selected
JG

5/8 fire ring

Less bite. And more speed. Love this edge

Set it and forget it

This is the end of the 4th season with our Sparx sharpener. I've got 2 kids playing hockey along with the neighborhood kids so it gets a fair amount of use. We've had zero issues so far and we love the convenience and the consistency of the sharpens that we get. I especially like the ability to adjust the number of passes that the sharpener makes. We rarely use the standard 4 passes and usually go for 2 which extends the life of the rings. The ease of use is phenomenal as well as the quick ring changes for different cuts. I've also run it in the back of my car using a $40 inverter from Harbor Freight that connects to the battery rather than the 12V accessory plug. Long story short, my kids' skates are never dull and I never have to wait in line at the local hockey store or worry about who is running the sharpener that day.

Love it!!

It took a year for me to finally buy one, but it was worth every penny! We don't have anywhere to sharpen except at the rink(which is seasonal) and it was hit or miss with the sharpenings. Takes 2 minutes per skate for me and my son absolutely loves it. Tournament out of town? It works perfect in hotel room as well! My son(10) and couple of his teammates like the Fire profile.

A Real Asset

This is our third season using the Sparks Skate sharper. My Grandson and I love the ease of use and of course the convenience to sharpen the skates when ever it fits our schedule or immediate needs. Also its easy to pack into the rolling case ( a bit expensive) and take it along to tournaments or out of town game weekends.

We were the first ones in our area to own one of this machines and people were real curious/ skeptic about how well it would work. We offered everyone to feel free and try it themselves. It made believers out of all that tried. Several families bought their own machine now and even our local Hockey store just acquired a double machine set up this season.

We use the 1/2" Fire Ring for my Grandson, (11 AAA player). It definitely improves the glide but provides in off edge even if the skate is not placed perfectly all the time.

do your home work first

just to start i have to say that the quality of the sparks machine and the job it does is excellent. now that we have this machine for a while and learned some of the ins and outs of the machine you just cant beat the convenience of sharpening your skates at home i love it. with 3 hockey players plus my own skates this machine will save time and money. now one word of advice is that you fully understand what all your skaters currently use for a hollow and what the needs of your skaters are. ei grip vs glide. this will eliminate trying different hollows that dont work for your skaters and ending up with a few different rings that you will never use. over all this is a great product and would recommend it to any hockey family
Reviews Loaded
Reviews Added