SUPERABRASIVE COATING
Our proprietary abrasive coating and cutting-edge manufacturing process ensures every ring produces an accurate and consistent sharpening. Every time.

PERSONALIZED PERFORMANCE
Whether you want extreme grip for those tight turns, or that extra glide to beat your opponent to the puck, the Sparx Sharpener provides 16 different hollow options.

60+ SHARPENINGS
At just $1.00 a sharpening, our Grinding Rings will sharpen on average, 60 pairs of skates making the Sparx Sharpener the most economical sharpening solution ever.

SMART TECHNOLOGY
The Sparx Grinding Ring features a microchip that monitors ring life and alerts you when it's time to replace it so that you will always be ready to sharpen.
THE SPARX GRINDING RING
THE HEART OF THE SPARX SHARPENING ECOSYSTEM
Each Sparx Grinding Ring is laser measured and inspected to ensure it meets our exacting standards. Unlike traditional stones where a hollow can differ slightly from sharpening to sharpening, a Sparx Grinding rings produces a precise hollow every time. Whether you want extreme grip for those tight turns, or that extra glide to beat your opponent to the puck, the Sparx Sharpener provides 16 different hollow options.
HOLLOW OPTIONS
TRADITIONAL RADIUS RINGS VS FIRE RINGS

SPARX RADIUS RINGS
TRADITIONAL HOLLOW
The Sparx Radius Rings produces the traditional hollows most commonly used in hockey, including the most popular 1/2" and 5/8" cuts. Choose from 12 different radius rings – from the deepest hollow for extreme grip (5/16") to the flattest hollow for unmatched glide (1-¼").

SPARX FIRE RINGS
FLAT BOTTOM HOLLOW
Looking to get the grip you need with the benefit of extra glide? Our FIRE Ring hollows provide exactly what you are looking for – the best of both worlds. Available in four different cuts (3/8", 1/2", 5/8", 3/4") the FIRE ring is a re-imagined and optimized flat bottom hollow that provides improved glide while still maintain desired bite.

UNDERSTANDING RADIUS OF HOLLOW
Radius of Hollow is simply how deep the groove is that is cut into the skate blade from sharpening. The deeper the cut, the more grip the blade will have on the ice. The shallower the cut, the more glide the blade will have on the ice. A smaller Radius Ring (5/16", 3/8", 7/16") will cut deeper into the blade creating more bite, while a larger Radius Ring (1-1/8", 1", 7/8") will not cut as deep, creating more glide.

CHOOSING THE RIGHT RADIUS OF HOLLOW
Choosing the right hollow is a matter of personal preference, whether you want more bite or more glide. The most common Radius of Hollow is a 1/2", which is what you will find in most retail settings. We recommend 1/2" for most youth players (less body weight) and then increasing the radius (9/16", 5/8") as the player gets larger.
CHOOSING YOUR GRINDING RING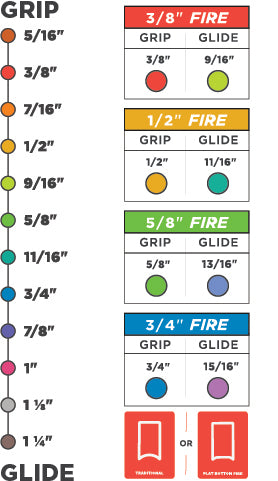 FOR A BETTER UNDERSTANDING OF THE RADIUS ON ICE, REFER TO THE CHART BELOW


FREQUENTLY ASKED QUESTIONS
How long does a Grinding Ring last?

If you're freshening up your blades after every skate, you'll get 50-60 sharpenings (or even more!) per ring (Radius Ring or FIRE Ring) and if you're sharpening your skates after every 5-6 hours of ice time, you'll get about 40 sharpenings. We like to say its about $1 per sharpening.
How does the Grinding Ring know when it's out of sharpenings?

This information is stored on a microchip inside the Grinding Ring and is relayed to the Ring Life Status Bar on the Menu Pad.
Do you offer a Flat Bottom sharpening?

Yes! Our patented FIRE (Flat Inside Radius Edges) Ring produces a flat bottom hollow.
How do I know which Grinding Ring to choose?

While there are many options available, the most common grinding rings are the 1/2" and the 5/8" Radius Ring™. Through our testing, we have determined that a 1/2" Radius Ring is a great starting point for smaller, younger players. Many adult players skate on a 1/2" radius as well. We have, however, found that larger, heavier players actually do quite well on the 5/8" radius. A flatter radius, the 5/8" allows heavier players to sufficiently grab an edge for turning and stopping but provides great glide as more of the blade remains above the ice surface.
What is the difference between a Radius Ring™ and a FIRE Ring™?

The easiest answer is that the Radius Ring™ produces a traditional "radius of hollow" (ROH) sharpening. Unless you know you skate on a flat-bottom profile, you will likely want to choose the Radius Ring at checkout. The Radius Rings work for both player skates and goalie skates. The FIRE Ring™ produces a flat-bottom cut with radius edges. You can find more information on the Grinding Rings page or in this blog post.

The Sparx Sharpener
ELEVATE YOUR PERFORMANCE
The Sparx Sharpener delivers pro-level accuracy every single time and the lightweight design allows you to sharpen anywhere, anytime – from your home to the rink.
Whether you choose the Sparx Sharpener 3 with its all-new enhanced technology features, or the economical Sparx Sharpener, you can sharpen with confidence.

There's a reason more than 25 NHL teams use Sparx Sharpening technology - professional results every time with virtually no adjustment needed.
Shop Now

PRO-LEVEL ACCURACY
The all-new lightweight design allows you to sharpen anywhere – from your home to the rink.

CONSISTENT. EVERY TIME.
Used by more than 25 NHL teams, the Sparx Sharpener produces professional results with ease.

PERSONALIZED PERFORMANCE
Patented design creates a perfect sharpening every time with virtually no adjustments necessary.

CLEAN AND SAFE
No prior sharpening experience needed and several safety features allows you to sharpen with confidence and no mess.