***GUARANTEED FOR HOLIDAY DELIVERY!***
The flagship product of Sparx Hockey. The third generation Sparx Sharpener and its unprecedented new high-tech features raises your sharpening game to a whole new level - all for less than the cost of today's top end skates. The Sparx Sharpener 3 delivers unmatched precision, accuracy and performance to players of all levels.

FEATURES:
Sparx BEAM - Bluetooth Connected Laser Alignment and Edge Checker
Multi-Functional LCD Screen
App Connectivity - Connect Sharpener to Sparx Hockey App for Enhanced Features
Pre-Set Precision Alignment - Just plug in and sharpen.
Integrated on-board Air Filter System
Orders Will Ship In Approximately 7-10 Days 

YOU MUST BUY A GRINDING RING to go along with your Sparx Sharpener in order for it to work!
1. Choose Your Grinding Ring
Radius Ring









FIRE Ring




The Starter Pack

Sparx BEAM™

SDR Wand

Blade Holder

Coated Steel Kit

Soft Travel Case

Sparx Honing Kit

Deburring Block Set

Sparx Sharpener Cover

Maintenance Kit - ES200/ES300
Premium Honing Stone - Medium

Premium Honing Stone - Fine

Translucent Arkansas Honing Stone

Figure Skate Adapter - Sparx Sharpener 2/Sparx Sharpener 3

Deburring Block Refill - Leather

Premium Honing Stone - Coarse
Goalie/Sled Blade Holder

Deburring Block Refills - Abrasive
Sparx Skate Blade Lifts

Hard Travel Case

Goalie/Sled Blade Holder (Wide)

Hard Travel Case PRO - ES200/ES300 PRO

Sharpener 3 Pro Base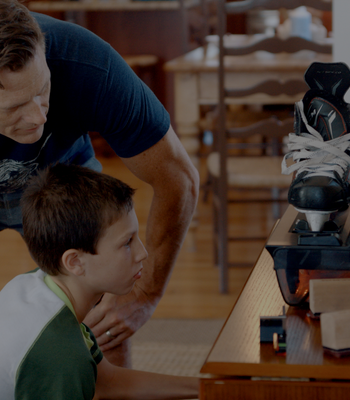 BEFORE YOU GO!
A SPARX GRINDING RING is required for your Sparx Sharpener.
ADD YOURS ON THIS PAGE or explore other Grinding Rings.
When you buy a Sparx Sharpener, you get:
The Sharpener
BEAM

™

Reference Gauge
BEAM

™

Charging Pad
BEAM

™

Charging Cable
Alignment Driver
Goalie Risers
Power Cord
Honing Stone
Leather Strop
Travel Guard
Grinding Rings Comparison Chart
WHAT'S IN THE BOX?
Please Note: Grinding Ring Sold Separately. USB power plug for Sparx BEAM™ not included.

THE SPARX SHARPENER 3
BEAM™
REFERENCE GAUGE

BEAM™ CHARGING PAD

BEAM™ CHARGING CABLE

ALIGNMENT DRIVER

GOALIE RISERS

SHARPENER POWER CORD

HONING STONE

LEATHER STROP

TRAVEL GUARD

LASER MEASUREMENT
Included with every new Sparx Sharpener 3 is the revolutionary Sparx BEAM - or Blade Edge Accuracy Measurement device. This patented high-tech and crazy-accurate device ensures your Sparx Sharpener is perfectly aligned and measures skate edges to 1/10,000th of an inch - the most precise skate edge measurement on the market.

BLUETOOTH CONNECTIVITY
The all-new Sparx Sharpener 3 and Sparx Sharpener 3 PRO feature Bluetooth connectivity - the first of its kind in the skate sharpening world. Connect the Sparx Sharpener 3 to the revolutionary SPARX BEAM and to the SPARX APP and unlock a whole new world of controls and features.

MULTI-FUNCTION LCD DISPLAY
A simplified user interface allows the Sparx Sharpener to be intuitive - adjust number of sharpening cycles, monitor the life of your Grinding Ring, receive safety alerts, and sharpen - all from the easy-to-use control pad. The custom electronics continuously controls and monitors all sharpening functions to ensure an accurate and safe sharpening.

SELF-CENTERING SKATE CLAMP
Our patented skate clamp design perfectly aligns the skate to the grinding ring, eliminating the challenges posed by varying blade types and thicknesses. Simply depress the clamp lever, insert the skate into the skate clamp and you're ready to go. No need to line up the skate blade with the grinding ring – the self-centering skate clamp takes the guesswork out of achieving a perfect sharpening every time.

PRECISE & POWERFUL CARRIAGE
The Carriage moves the Grinding Ring across the skate blade with consistent pressure, translation speed, and RPM. This unparalleled consistency ensures a smooth surface finish every time and the consistent pressure and speed preserves the blade's profile/rocker for the life of the blade, unlike traditional sharpeners that alter profiles after just a few sharpenings.

ON-BOARD FILTRATION SYSTEM
Dust accumulation is inevitable when sharpening skates, but we have you covered. The Sparx Sharpener features an integrated filter system and powerful fan that collects and filters out dust particles, allowing your sharpener – and surroundings – to remain clean. The advanced electronics automatically notifies you when its time to change your filter.

BUNDLE & SAVE
Get the revolutionary Sparx Sharpener and the most frequently purchased sharpener accessories in one cost-savings bundle.
SHOP BUNDLES
SKATE COMPATIBILITY

Hockey Skates
Goalie Skates
Figure Skates*


*Requires an additional adapter, which is sold separately.
DIMENSIONS & WEIGHT

Width: 29.8 Inches / 673 mm
(27.4" / 696 mm without Clamp Paddle installed)
Height: 5.0 Inches / 127 mm
Depth: 11.9 Inches / 303 mm
Weight: 22.1 Pounds / 10 kg
ELECTRICAL

Line Voltage: 100–240 Volts AC (50–60 Hz single phase)
Maximum Power Consumption: 140 W
WARRANTY

Every Sparx Sharpener is covered by a 1-year limited warranty for any manufacturing defects.