ONLY $599.99*
*SAVE $100 - ENTER CODE

HOLIDAY2023

 AT CHECKOUT
 **In Stock - Immediate Delivery** 
Consistency. Accuracy. Performance.

The Sparx Sharpener 2 delivers pro-level accuracy every single time and the all new, lightweight design allows you to sharpen anywhere, anytime - from your home to the rink.
Used by more than 25 NHL teams, the Sparx Sharpener produces professional results with virtually no adjustment and minimal set up.
GUARANTEED FOR HOLIDAY DELIVERY!
YOU MUST BUY A GRINDING RING to go along with your Sparx Sharpener in order for it to work!
1. Choose Your Grinding Ring
Radius Ring









FIRE Ring




The Starter Pack

Sparx BEAM™

Edge Checker

SDR Wand

Soft Travel Case

Blade Holder

Sparx Sharpener Cover

Coated Steel Kit

Deburring Block Set

Sparx Honing Kit

Premium Honing Stone - Medium

Premium Honing Stone - Fine

Premium Honing Stone - Coarse
Translucent Arkansas Honing Stone

Deburring Block Refill - Leather

Deburring Block Refills - Abrasive
Sparx Skate Blade Lifts

Figure Skate Adapter - Sparx Sharpener 2/Sparx Sharpener 3

Sharpener Base Pro

Hard Travel Case PRO - ES200/ES300 PRO

Hard Travel Case

Goalie/Sled Blade Holder (Wide)

Goalie/Sled Blade Holder

Maintenance Kit - ES200/ES300
Sharpener 3 Pro Base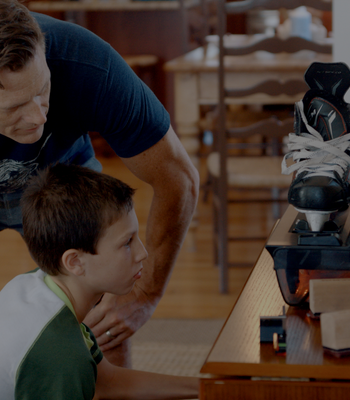 BEFORE YOU GO!
A SPARX GRINDING RING is required for your Sparx Sharpener.
ADD YOURS ON THIS PAGE or explore other Grinding Rings.
When you buy a sparx sharpener, you get:
The Sharpener
Alignment Ring
Optical Alignment Tool
Alignment Driver
Goalie Risers
Power Cord
Honing Stone
Leather Strop
Travel Guard
Grinding Rings Comparison Chart
WHAT'S IN THE BOX?
All of these items come in the box along with your Sparx Sharpener 2.

THE SPARX SHARPENER 2
ALIGNMENT RING

OPTICAL ALIGNMENT TOOL

ALIGNMENT DRIVER

GOALIE RISERS

POWER CORD

HONING STONE

LEATHER STROP
TRAVEL GUARD
AS EASY AS A CUP OF COFFEE
SPARX SHARPENER 2 FEATURES

OPTICAL ALIGNMENT SYSTEM
Unlike existing skate sharpening machines, the Sparx Sharpener doesn't require re-alignment with every pair of skates sharpened and there's no need to realign the machine when swapping out Grinding Rings or sharpening skates with different blade thicknesses. Alignment of the Sparx Sharpener is typically performed during initial set up and then checked periodically over time.

INTUITIVE ELECTRONIC DISPLAY
A simplified user interface allows the Sparx Sharpener to be intuitive - adjust number of sharpening cycles, monitor the life of your Grinding Ring, receive safety alerts, and sharpen - all from the easy-to-use control pad. The custom electronics continuously controls and monitors all sharpening functions to ensure an accurate and safe sharpening.

SELF-CENTERING SKATE CLAMP
Our patented skate clamp design perfectly aligns the skate to the grinding ring, eliminating the challenges posed by varying blade types and thicknesses. Simply depress the clamp lever, insert the skate into the skate clamp and you're ready to go. No need to line up the skate blade with the grinding ring – the self-centering skate clamp takes the guesswork out of achieving a perfect sharpening every time.
PRECISE & POWERFUL CARRIAGE
The Carriage moves the Grinding Ring across the skate blade with consistent pressure, translation speed, and RPM. This unparalleled consistency ensures a smooth surface finish every time and the consistent pressure and speed preserves the blade's profile/rocker for the life of the blade, unlike traditional sharpeners that alter profiles after just a few sharpenings.

ON-BOARD FILTRATION SYSTEM
Dust accumulation is inevitable when sharpening skates, but we have you covered. The Sparx Sharpener features an integrated filter system and powerful fan that collects and filters out dust particles, allowing your sharpener – and surroundings – to remain clean. The advanced electronics automatically notifies you when its time to change your filter.

EASILY ADJUSTABLE RING HEIGHT
A simple, easy-to-use adjustable ring arbor allows for on-the-fly adjustments for short or tall steel. Our patented Height Adjustment Knob is easily located within the sharpener and is simply turned left to raise the height of the ring, or turned right to lower the height. Go from one pair of skates with high steel to another with low steel in just a matter of seconds.
SKATE COMPATIBILITY

Hockey Skates
Goalie Skates
Figure Skates*


*Requires an additional adapter, which is sold separately.
DIMENSIONS & WEIGHT

Width: 29.8 Inches / 673 mm
(27.4" / 696 mm without Clamp Paddle installed)
Height: 5.0 Inches / 127 mm
Depth: 11.9 Inches / 303 mm
Weight: 22.1 Pounds / 10 kg
ELECTRICAL

Line Voltage: 100–240 Volts AC (50–60 Hz single phase)
Maximum Power Consumption: 140 W
WARRANTY

Every Sparx Sharpener is covered by a 1-year limited warranty for any manufacturing defects.
Total 5 star reviews: 218
Total 4 star reviews: 4
Total 3 star reviews: 0
Total 2 star reviews: 0
Total 1 star reviews: 0
100%
would recommend this product
Customer-uploaded media carousel. Press left and right arrows to navigate. Press space or enter to open more details.
Slide 1 selected
Alexander B.

Verified Buyer

We love it

As a coach, ref, and having a son play as well, we love the convenience and the instant availability to sharpen our skates as needed. The Sparx machine gives us a perfect edge every time. Thank you Sparx

Should have bought this sooner!!!

The quality of sharpening is phenomenal and better than what we have been paying $8 a sharpening for the past 3 years at our local skate shop...the convenience of sharpening our sons skates at home and saving this money is great, just wish we would have bought this sooner!!

JG

Joseph G.

Verified Reviewer

The secret weapon

Love our sparx machine. My dad got it for our family when I was 6. I'm now 13, and love how I can stay ahead of the game by always having a sharp edge. I play Bantam AAA for the ICEDOGS and went from a 1/2 sharp. to the FIRE 5/8 edge and I trust my edges 100% . Definitely recommend for any elite player.

SO

Steve o S.

Verified Reviewer

NHL players get skate sharpener when they retire!

25 years ago, whenever an NHL player retired, the player would often be presented on the ice by teammates with a n expensive ice sharpener for him to sharpen his kids skates in retirement! Well, now you can sharpen skates in your garage for your kids and give them the same advantage the Ex Pros give their kids FOR A FRACTION OF THE COST of those old home grinders!!!

Great Product

This is a great product. I had an issue with a couple of grinding rings when they arrived. However, Sparx replaced them with no issues. So far so good.
Reviews Loaded
Reviews Added